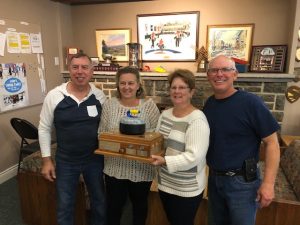 Félicitation à l'Équipe Patenaude du Club de curling Rosemère pour sa victoire lors du Tournoi Mixte ARCM 2019 tenu le 26 octobre au Club de curling Pointe Claire. Le quatuor était formé de Sylvain Patenaude (capitaine), Christiane Poitras (troisième), Daniel Leblanc (deuxième) et Brigitte Laflamme (première joueuse).
Merci au Club de curling Pointe-Claire et à David Ward pour avoir accueilli cette compétition.
En vertu de cette victoire, Rosemère accueillera le tournoi 2020 l'an prochain en novembre.
Congratulations to Team Patenaude of Rosemere Curling Club for winning the 2019 ARCM Mixed tournament on Oct 26 at Pointe Claire Curling Club. Skip-Sylvain Patenaude, Third-Christiane Poitras, Second-Daniel Leblanc and Lead-Brigitte Laflamme.
Thanks to the Pointe Claire Curling Club and David Ward for hosting the event.
With this win, Rosemere will host next year's tournament in November 2020.